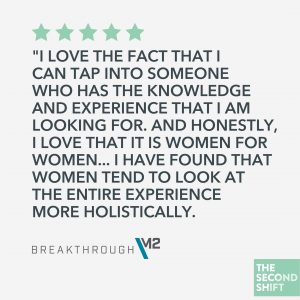 The Client:
Breakthrough M2 is a health and Wellness company focused on a proprietary weight loss and supplements program. The founder wanted to expand her business by creating a franchise sales model. She needed help structuring an incentive driven sales model driven that ensured success for the salespeople and the company while retaining brand control.
The Quote:
"I had not worked with someone like Sandy before and she was great!  I hired her because I didn't know what I needed and she wasn't waiting for me to keep telling her what to do.  She gave me ideas, took the lead on looking things up, researching, asking friends for input, and letting me know she was doing a few extra things to add to what we were doing. "
The Hire: 
Breakthrough M2 hired Sandy Nuwar, an expert in sales and business development with a background in  packaging and cybersecurity start-ups. Even though her experience was not in the wellness space, Sandy understood how to redesign a sales team and create process and procedures to roll out the new model while strategically re-thinking margins and the technology needed to ensure success for the salespeople and the company.
The Quote: 
"The M2 Breakthrough project was a great chance to work on revising a sales structure, marketing and overall strategy. Second Shift allows me the freedom to discover new challenges and think creatively for clients."
The Second Shift Member Sandy N.
Want your own success story? Post a job now!