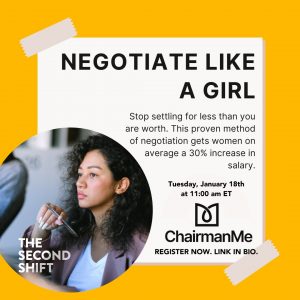 Join Jenny Galluzzo and Sarah Lacy, Founder of ChairmanMe, to learn the art of negotiation. Do you know that women who negotiate salary increases earn more than $1million more over their careers than those who don't? Stop underselling yourself and join our webinar on January 18th at 11am EST.
ChairmanMe is an online educational platform where badass women support, grow, belong, connect, and discover the tools and the allies to live their best lives. These award-winning courses are taught by the world's outliers and leaders who are shaping the future of politics, art, science, and business. 
Sarah Lacy, founder and CEO of ChairmanMe, is an award winning investigative journalist, author, serial entrepreneur.  Sarah  is generously offering a 20% discount to Second Shift community for their Negotiation course.
Starting on Jan 24th the course takes place over 6 weeks with online classes and cohort sessions to level up your self-worth and accountability and set yourself up for success!
If you are interested Click Here and use the code SECONDSHIFT