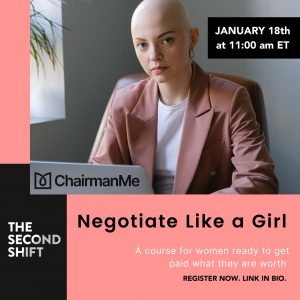 The concept that women are bad at negotiating is a pervasive idea that has been proven to be a total myth. Women are just as persuasive… we just need to use different tactics that align with our authenticity and innate skills. We hosted a webinar with Kathryn Valentine and Sarah Lacy of ChairmanMe to learn how to "Negotiate Like a Girl." You can watch the full webinar here, but here are some of the highlights.
First, let's do some arm-chair psychology.  Obviously, this is a far more nuanced conversation but the basics are: girls are raised to take care of people's feelings, lead with empathy and be people-pleasers. As working professionals, this shows up as internalized fear of being unlikeable and fear of failure, lack of confidence and insecurity about potential negative backlash. The outcome is that women with the same skills and experience are paid less than their male counterparts because  they don't negotiate for salary and benefit packages at the same rate, leaving them behind at each stage of their career. Overall that can mean they work 8 more years to make up the loss of salary and they could leave up more than $1 million on the table upon retirement.
What's the solution? Women need to learn how to negotiate for themselves  not using the current model which only works for men. Turns out negotiating like a girl is more successful– for both men and women! There are two ways to do this: Communally and Collaboratively.
Collaborative Negotiation: 
Instead of setting up a scenario where it is you vs. them, come to the negotiation from the point of view of US vs. the problem. It is highly effective and strengthens the relationship by pitting you on the same side. Your success is not taking away anything, it is a win for everyone.
Communal Negotiation Structure:
Take your past accomplishments + your vision of the future for yourself and the company = your ask.
There is a lot more detail on the webinar and Kathryn Valentine gave The Second Shift access to her proprietary negotiation calculator. This handy tool will help you figure out what you should be asking for based on age and salary. Don't forget, you can use these tips to negotiate more than salary– for a list of 50 things you can negotiate click here.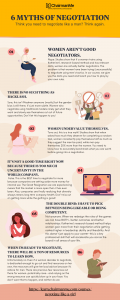 ChairmanMe  is generously offering a 20% discount to Second Shift community for their Negotiation course.
The course takes place over 6 weeks with online classes and cohort sessions to level up your self-worth and accountability and set yourself up for success!
If you are interested Click Here and use the code SECONDSHIFT