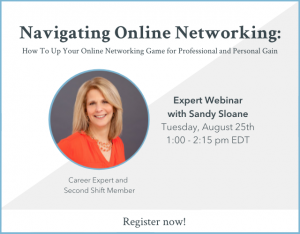 Hello Second Shift Community!
During the COVID 19 worldwide pandemic, virtual networking has become the new normal for making connections. Even though meeting people is just a click or two away, most of us feel a bit lost navigating a whole new networking landscape.
Our upcoming webinar, Navigating Online Networking, will provide best practices to use to make sure your ZOOM calls boom instead of bomb. Taught by Second Shift member Sandy Sloane, President of Solutions by Sloane, this event is for anyone looking to up their online networking game for professional and personal gain.
Navigating Online Networking
Tuesday, August 25th @ 1:00pm ET
Register Here
See you there!
https://www.eventbrite.com/e/navigating-online-networking-tickets-116627749739