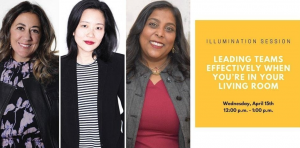 Last week our amazing COO and Head of Product Michelle Pae did a panel with Luminary about managing a remote workforce. As a veteran of the tech product development world Michelle uniquely understands how to successfully organize, motivate and delivery an on-time product. Here are some take-aways and tips for creating culture including the importance of open and empathetic communication in quarantine.
1. Stand ups— daily quick check ins for daily goal and expectation setting.
2. Zoom fatigue is real— use Slack or calls to avoid virtual burnout
3. Lead with empathy— Ask how your team is doing, listen and respond flexibly based on need.
4. Create culture— Stay connected with ice breakers or cocktail hours.
5. Open communication is key— schedule one-on-ones to understand individual needs and goals.
Here are some other things we learned that are useful for managing remote work in quarantine and at all times.
In your one-on-one– ask workers about their bandwidth time-wise and emotionally. See if they have unique circumstance to plan around or if they have the time/ interest in taking on more responsibility.
Set clear individual and team goals and expectations.
Leave your door open so they can ask for help.
Work with your team to creatively problem solve
Be transparent and advocate for your team.