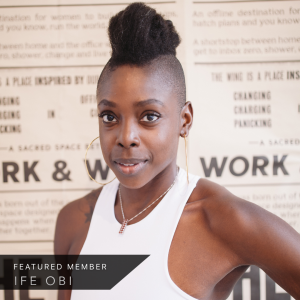 Ife Obi is an optimist, over-achiever, and a realist. She is our Featured Member because she understands that to #makeworkworkforyou,  it's important to take risks, make bold changes when it isn't working for you and trust in your own resilience.  
Tell us your work story : Who are you and what do you do?
I've spent over 15 years in marketing entertainment, consumer products, and services. Always striving for more, I ventured out on my own and started to focus on marketing consulting while opening my own small chain of fitness studios in Brooklyn, NY.
What is the hardest challenge you've faced, work-wise?
My hardest challenge work-wise was to leave a situation that wasn't healthy for me and to enter a world of the unknown. I spent a long time in a situation where the environment was toxic but the pay and perks were great. Deciding to leave and take a chance on what's next, or to stay, make great pay but to give up on my mental well-being was a hard choice to make. But ultimately, in my opinion, it was no longer a choice.
What advice do you have for other women looking to make a career change but are afraid or lack confidence? How is it on the other side?
We thrive in environments that excite us. If a job or a career is not serving us any more, it's time to change. If not, we just grow resentful and it eats away at so many parts of our lives. It's important to remember that we are extremely resilient. All the work that we put into what we do is not exclusive to one company, or one department, or even one field. We are problem solvers and hard workers. When we make the change, there may be some hurdles but ultimately, we'll figure it out and get to where we want to be. And with that you'll find much more happiness and fulfillment.
What continues to draw you to your chosen field and what do you hope to accomplish in the years ahead?
I believe marketing is all about solving a problem which is what excites me. How do we get this to be viral? How do we drive more revenue? How do we increase users? It always requires new ways of thinking or new techniques or you will end up falling behind. Marketing is the biggest part of the success of any business, and as a business owner myself, it's important for me to stay in the know, applying those learnings to my own business.
How do negotiate the balance between life and work when you are the one setting the boundaries?
I still struggle in finding the balance as I'm a workaholic, but I have gotten over the idea that I need to prove myself to anyone. If I'm hired to do a job, then they are confident in me getting the job done. So with that I can work remotely, I can leave the office at 5, I can stay home when I'm sick, I can have my life outside of work…and have no guilt.
How do you make work work for you? 
I can't work just to earn. I have to enjoy what I'm doing, learn from what I'm doing, and it has to come with balance and fulfillment. I make sure whatever I do checks all those boxes.
We want YOU to be a Featured Member!
Sign up here: https://www.surveymonkey.com/r/featuredmemberquestionnaire