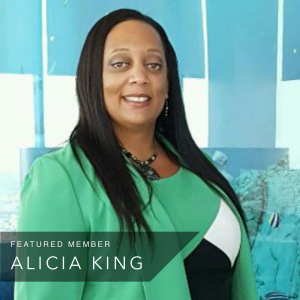 You may have noticed The Second Shift has a new look and feel and that is due to the help of our mighty team with our newest team member Alicia King! Alicia is a seasoned HR pro who recently started her own DEI consulting business. The secret to our success at The Second Shift is working with our own members– you are the rock fuel to our growth! Alicia joins us with new insights and strategy from both the HR and DEI lens. We can't thank her enough for helping us to #makeworkworkforyou!
Tell us your work story : Who are you and what do you do?
I consider myself an innovative, dynamic, and strategic human resource practitioner with more than 10 years of specialization in the development and implementation of HR programs, broad experience including recruitment, onboarding, employee and labor relations, career coaching, diversity and inclusion, talent development, succession planning, and organizational design.
What is your proudest professional accomplishment?
I reimagined the talent review cycle for both a Fortune 50 company's technology division and a leader in the food services industry targeted at retaining 85% of our top talent and increasing our diversity pipeline by 5% for minorities and 5% for women each year.
If you could change one thing about how your given field operates, particularly with regards to women, what would it be, and why?
An overwhelming majority of employees in the human resources field are women. It's because we are "deemed" nurturing, can handle conflict, and make clear judgements about potential. Yet many HR female leaders are viewed less strategic as their male counterparts. I would redirect HR's attention and female leaders to be strategic advisors or human capital curators. Our focus would be on adding value to the business from a people and performance perspective and less on tactical aspects of the role.
What advice do you have for other women looking to make a career change but are afraid or lack confidence? How is it on the other side?
My best advice is to not be afraid and to follow your instincts and passion. I graduated from The Ohio State University with a degree in Chemical Engineering. After entering the workforce, I learned that talent management and talent acquisition were my passion through ancillary work. I decided to take a risk and make the career transition. I had to start over by taking a lesser role, but I quickly caught back up and can't be happier today for pursuing my purpose.
What continues to draw you to your chosen field and what do you hope to accomplish in the years ahead?
I decided on a career in HR because I wanted to be a Human Capital curator. I recently heard this term as someone who develops leaders, hires the best-in-class diverse talent, and builds the employee value proposition (EVP). In the future, I'd like to focus on HR Consultant opportunities and partner with my clients to create talent transformations or visions that are agile, flexible, and responsive.
What is the best piece of professional advice you've ever received?
Anyone who knows me knows how much I love Oprah. In a Forbes report, it was said that Oprah has been known to rely on a leadership philosophy that prioritizes people, vision, and values. She is open to new experiences, she is conscientious in everything that she does, and she cares about others beyond her circle…she believes "the greatest discovery of all time is that a person can change [her] future by merely changing [her] attitude."
If you could tell your younger self one thing about what this professional journey would be like, what would you tell her?
My best advice to my younger self is that your career will not be linear. It's important to maintain a positive attitude, be flexible and curious, and seek trusted advisors. Change will be constant, but you'll continue to add to your toolkit if you are excited about new opportunities and welcome challenging roles.
How do you make work work for you? 
I've created 5 mantras to make work work for me.
Maintain a positive attitude
Be an innovative and creative visionary
Be authentic and transparent
Value relationships and seek trusted mentors
Be accountable and collaborative