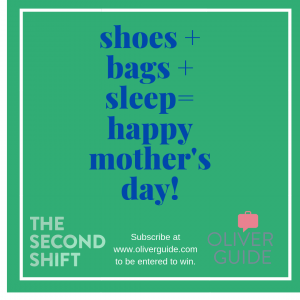 In honor of Mother's Day we are holding a sweepstakes with Oliver Guide!
If you sign up for their amazing travel site between May 1 and 10th you are automatically entered to win some awesome gifts:
For those who don't know, Oliver Guide is a platform for capturing and sharing travel recommendations. The founders are mothers who love to travel with their families and wanted to crowdsource info from like-minded adventurers. One of the founders, Cynthia Pillsbury, is a veteran Second Shift member and she shares her story and travel insights here! As a Second Shift member she knows intimately how hard the juggle is and wanted to honor our community with some fun travel related gifts.
Stay tuned soon to see Jenny's Oliver Guide post on her own families trip to the Middle East.