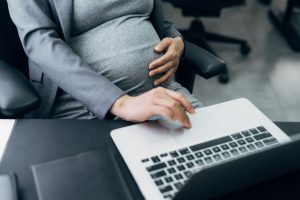 I wish The Second Shift existed when I was going out on maternity leave.  As an admittedly type A personality, I plan everything, including the step back in my career that I took a year in advance of getting pregnant.  In my role as a sales manager, I was responsible for a national team and was on the road almost every week.  I was thrilled with my achievements and moved quickly up the corporate ladder. But I knew I wanted to start a family and this was not a schedule that would work once I had a baby.
So I left management, took a step back and moved to a new company as an individual contributor. I followed all of the advice I had given my direct reports over the years: I was super buttoned up with my notes, follow-ups and pipeline.  Once I got pregnant and maternity leave was imminent I became me even more diligent. Pregnancy brain be damned–my turnover documents were super thorough. As my belly was expanding I prepped all of my clients about my coverage plans. I had ALWAYS hit my goals, and I was not about to let having a baby tarnish my record.
The team covering my leave was an incredible but overworked account manager and a sales manager who was already tapped out with too many internal meetings. So even with all the prep work, I came back to crickets…  No meetings scheduled, a non-existent pipeline and revenue numbers below 50% for Q1. Not having a maternity leave fill-in wasn't just a bad business decision for me, but for my company as it meant lost revenue for multiple quarters. It wasn't the fault of my back-up team, they were already stressed about their own jobs and responsibilities. They should never have been made to cover my work– I should have had a backfill. It was a devastating and unnecessarily stressful "welcome back" for a sleep deprived and emotional new mother.
….If there had been a The Second Shift I likely would not have chosen to take a step back in my career path and leave my sales management role. I would have realized there were other options for my growth.
….If there had been The Second Shift I would have found the perfect member to fill in during my leave. We could have worked together to prepare ahead of my birth and she could have been there to assist me during my transition back. I would have felt supported and my team would have not resented me for the extra work they shouldered while I was gone. Work could have continued on successfully and my sales numbers would have reflected the positive effects of an unbroken workflow with no loss of momentum.
The Second Shift offers you options and takes the burden off parents, families, and co-workers. And I am proud to be a part of this team that supports and encourages female growth and keeps women engaged in the workforce.