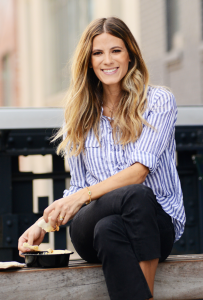 THE JUGGLER: Eden Grinshpan
HER JOB:  Host of Top Chef Canada and cookbook author. 
MARRIED FOR: 6 years
NUMBER OF KIDS: One, age 2 
On The Morning Tag-Team: Every morning, we wait until the baby wakes up—obviously. Recently, she's been waking up later, which is amazing, but, also, then we're like really fucking rushing out the door. We wake up at around 7:30 and then either Ido or I will go and get the baby; we'll all play in bed a little bit, and then one of us will go and make breakfast and lunch. Sometimes it's the both of us while we're drinking coffee. Then we'll get Avy's lunch box together and Ido will take her to school because it's on the way to work for him. And then I … honestly, it really depends, I have so many different kinds of jobs right now and it's been like that for the last couple of years; when you're in this industry, you're always doing new projects, so right now I'm working on my first cookbook that comes out fall 2020. So, either my assistants will come over and we'll make a list of all the ingredients we'll need for the day, and then one of them will go out and shop and we'll start cooking. Or, I'll go take some meetings, or I'll go to Dez for lunch service. It really does change every day.
On Childcare: Avy's in daycare and she finishes around 3:30 PM. If I'm available, I'll go and get her, but I also have a nanny who picks her up when I'm not, and she is with her until the end of the day. I am usually home at around 7 or so. I like to be there to put her down every night for bed, and to have a couple hours at the end of the day (and at the beginning) to be together and to play and to have our time as a family.
On 50/50: Honestly, it's so tough because sometimes I need to travel for work and I am also the host of Top Chef Canada so if I'm working, Ido steps in and has to do everything else. Right now, I am working from home, so I have more flexibility. Because I'm grocery shopping for the book, I tend to do more of the grocery shopping. To be honest, I probably do more laundry, too, and he does more signing up. Stuff like that. "Babe, can you just sign the baby up?" But honest to God, if Ido was at home and I was out, he would take on those household roles too. We really split things up.
On Building A Team: We have a nanny that we love and over the last couple years we have been able to just accumulate a group of really great nannies so if one can't do something, then, hopefully, another one can. And if that's not the case, either Ido or I just has to maybe turn something down, and step in, because, unfortunately for us, we don't live in the same country as our parents. So we can't rely on Bubby to come and watch the baby last minute. But we also have a group of incredible friends and they've been a great resource for me. Like, last month, I had an event that I was contractually obligated to go to. Ido was out of town and I was home alone and my babysitter couldn't come in. And it was like one of those moments where you're like, what the fuck? So, I just called one of my closest friends and she and her husband brought their newborn to my house and watched my daughter for me. I feel very lucky to have such amazing people around me here.
On Systems: My husband would love for us to be way more organized. He's way more organized than I am. I am a scatterbrain and leave everything to the last minute. Poor guy. We communicate a lot through text because we're both really busy throughout the day. And, on like a Sunday night, we'll sit in bed and go through our week together, and make sure that if we need babysitters, we book the babysitters and any other extra help we need, and we just try to prioritize and plan so that everything is as seamless as possible.
On Asking For Help: The reason they say it takes a village is because it really takes a frickin' village. Like, there are never enough hands! It took me a while to ask for help when Avy was born, and I wish it didn't, because if I had taken more help in the earlier days, it just would have been easier for me. I made it more difficult for myself than I should have because I wanted to do everything by myself; it does not need to be that way. It doesn't make you a better mom or whatever the hell that means. All it does is make you more stressed out because you feel like all of the weight is on your shoulders. So I'm all about taking the help where you can get it and just allowing as many people to take part in this journey with you. It shouldn't just be the parents and the baby alone. It should be a community of people.
https://www.purewow.com/family/chef-eden-grinshpan-from-cooking-channel-invisible-labor