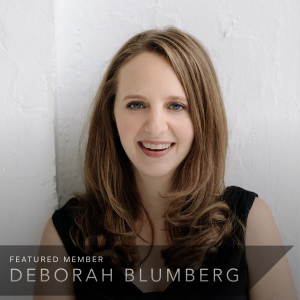 Deborah Lynn Blumberg describes herself as "a business, finance, and health and wellness writer and editor who tells the stories of the people and companies that are changing our world for the better." In telling Deborah's story as this month's featured member, we like to think we are doing the very same thing; after all, is there any more uplifting way to start the day than showcasing and celebrating a woman with this kind of talent, energy, passion, and drive. Read below and let us know!
Tell us your work story : Who are you and what do you do?
I got my start at The Wall Street Journal, where I reported on global financial markets during the height of the credit crisis. From there, I took a role in marketing and communications at JPMorgan Chase, working with senior leaders to develop content and messaging. Now, I use my skills as a reporter and my marketing know-how to help companies better reach and inspire their clients. I'm also the co-president of the Texas chapter of the American Society of Journalists and Authors (ASJA), a board member and literary co-chair of Women in the Visual and Literary Arts, and a member of the Historical Novel Society and the Writers' League of Texas.
What is your proudest professional accomplishment?
Having an article on Page One of The Wall Street Journal.
What is the hardest challenge you've faced, work-wise?
Deciding to leave my full-time job in corporate America to freelance full-time.
If you could change one thing about how your given field operates, particularly with regards to women, what would it be and why?
I would have women speak up more and negotiate for better rates.
What advice do you have for other women looking to make a career change but who are afraid or lack confidence? How is it on the other side?
Change is scary, but can be transformative. Sometimes you just have to take a leap of faith.
How do you negotiate the balance between life and work when you are the one setting the boundaries?
Force yourself to take time off and for much needed self care: exercise, eating well. Schedule it into your day.
How do you make work work for you?
I'm my own boss and love it!
Thank you Deborah! If you want to be a Featured Member please fill out this survey.