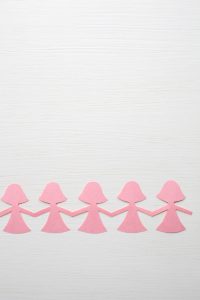 I recently learned a new term that I love, Shine Theory, coined by Ann Friedman and Aminatou Sow, their basic premise is "I don't shine if you don't shine"– meaning women are more powerful if we collaborate and support each other rather than competing and undermining ourselves. What's interesting to me is how much has changed since they created this theory in 2013.
When Gina and I started The Second Shift in 2014 we could never have predicted the front row seat we would have to witness the social and political changes that would give birth to a new wave of feminism. In the past few years we have seen the rise of #metoo movement exposing the ways women are held back by unfair power dynamics in the workplace. To take matters into our own hands, women are founding businesses at a rate of nearly 2000 a day in the US. Yes, we still account for only 2% of Venture Capital investment, but we've gone around the system and created our own venture capital firms and investment avenues to nurture and support female founders.
Consider Wingable— _able Partners, a boutique venture capital fund with an emphasis on supporting female founders, partnered with The Wing to create an investment accelerator providing both funding and mentorship. Partner Lisa Blau says, " A great deal of success—for better or worse—lies in your network. Men have worked this to their advantage for years. We're bringing that type of network effect to a group that has been overlooked and left out of the network far too long: women. It's instinctual for women to collaborate so this partnership with The Wing to support talented women was a natural fit."
Today there is a women's affinity group, co-working space, networking breakfast for even the most specific interest or community. If you're entrepreneurial you can join The Riveter, political join The Wing, mid-career leveling up look into Chief, founder join Female Founders Collective, creative sign up with Heymama. As Katya Libin, Heymama co-founder says, "collaboration is the new competition." This new feminist moment is about finding or creating your own space and seeking comfort with women who make you feel strong and powerful — but not at the expense of anyone else. There is a "more is better" attitude that is a remarkable change from old-fashioned trope about women's cliques and competitiveness. I should know– I float between them all doing career building and speaking events across the country– and what I have seen is a level of collaboration and cooperation that proves that Shine Theory works.  
For those who say we are operating outside the system and will never crack the glass ceiling of the male-dominated corporate world– I say look at successful female-founded businesses, like iFundWomen, nurtured and funded by female-founded investors to help provide capital and skills for other women founders. Instead of focusing on the glacial pace of change and stagnant statistics… why not focus on the points of light where women are shining and making real progress. It's a remarkable moment to bear witness to and an exciting time to be in the women's empowerment business.
Ladies– let's #shinetogether!