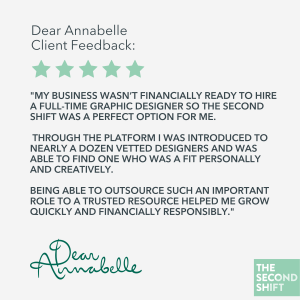 The Client:
Dear Annabelle is a line of luxury stationary and paper products started by Marcie Pantzer, a dear friend of our co-founder Jenny Galluzzo and an investor in The Second Shift. When she launched her line in 2018 she came to us to find a graphic designer to work with. and we knew we had to find her a superstar. Julie Teninbaum was the perfect choice– she is a seasoned pro with a whimsical and fun vibe who is also a pleasure to work with. Four years later their design collaboration is still going strong!
The Quote:
When I decided to launch Dear Annabelle, I knew that one of the most important hires would be a dependable, creative and wildly talented graphic designer. My business wasn't financially ready to hire a full-time graphic designer so the Second Shift was a perfect option for me. Through the platform I was introduced to nearly a dozen vetted designers and was able to find one who was a fit personally and creatively.  Being able to outsource such an important role to a trusted resource helped me grow quickly and financially responsibly.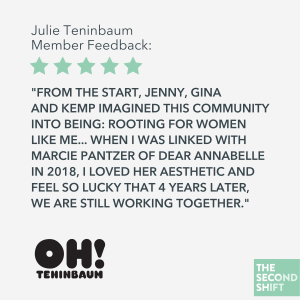 The Hire:
From the start, Jenny, Gina and Kemp imagined this community into being: rooting for  women like me; reminding me I could still be relevant and ambitious — and that this wasn't contradictory to being a mother. Through the years, I have won several pitches, and also lost a few that I wish I'd gotten. I've passed over a few I would have liked but was too busy with other projects to fit them in. But I always appreciate when new notifications appear in my inbox, for the possibilities they offer. When I was linked with Marcie Pantzer of Dear Annabelle in 2018, I loved her aesthetic and feel so lucky that 4 years later, we are still working together.
Marcie's taste is impeccable, and she has created a sumptuous line of stationery products that is, at times, quirky and refined (a winning combination). I was originally brought on to help design and layout stationery and presentation materials, which I still do. Over time, though, we have also worked together on expansions of her lines: wrapping paper, place cards, gift tags and more. We work well together, back and forth, mainly over email, which I love because it's I have time-commitments (mostly kid-related) which cut into my day. I value her judgement, her attention to detail and her on-target communication.
If you want to hire a Second Shift member and have your own success story please reach out to info@thesecondshift.com