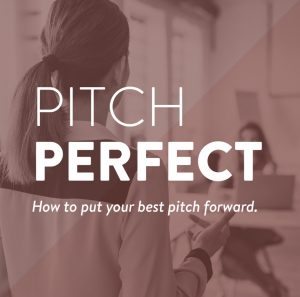 Pitch Perfect Example (Marketing Consultant for Fitness App) 
The Job:
Fitness App (launched) looking to hire marketing consultant for 10-15 hours a month to run our social media marketing. Infrastructure (Facebook, Instagram, Twitter, Website, Blog) is in place. Need an experienced and savvy social media marketer to help us with content and SEO. Would work directly with managing member and fitness trainer to develop content to directly influence our marketing campaign and drive sales of the app.
Responsibilities + Deliverables
Create a social media strategy for the company that is on brand with the app
Direct and manage our content creation every week
Curate our social media sites with content (pictures, videos, optimized blog posts)
Run specific sale campaigns based on the calendar (i.e cybermonday, holiday workouts, January sales pitches)
Communicate with managing member and trainer for deliverables weekly
Ideally post content and manage analytics, but not required
The Pitch: 
Hi there!
I'm qualified to take on this opportunity because it's exactly what I've been doing for a woman-owned business called XXXX, which makes custom merchandise for all industries, including health & wellness. (See an example here: Instagram Account).
I've run an influencer campaign with them with zero budget, and have helped them break into B2B sales after always focusing on B2C.
Prior to being a consultant, I lead social media and marketing programs for small startups, as well as for Groupon and Google.
Look forward to learning more!
Why We Like It: 
Show your real work: The job description asked for someone to run the company's social media accounts so this member shared a link of the instagram page for the company she's been consulting for. This provides a visual example of her work and gives her the leg up.
Share the value you can bring: This member shares that she led influencer campaigns for zero budget which means that she is scrappy and has the ability to successfully market without a big spend.
Be specific with related experience: This role wants someone who has experience in social media and marketing strategy, she not only shares that she has experience in the fitness industry (current role) but also at well-known tech companies including Google and Groupon.