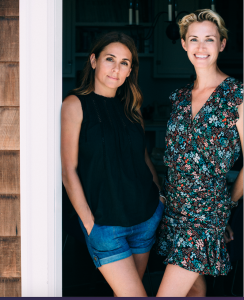 When Gina and I launched The Second Shift in 2015 we were told by an advisor who is also a prominent public relations executive that the word "mom" was toxic and would undermine the talent and experience of the women we were trying to help. Basically, the inherent bias against working mothers in corporate America was so strong that even presenting their outstanding resumes would not counteract the prejudice of hiring managers. We were shocked, but not surprised.
What's very exciting to us in this moment is how far the conversation has come in the past year.  If we can say nothing else positive about 2020, we have COVID-19 to thank for shifting the narrative around the idea of working parents and "moms." I guess it just takes a global pandemic to really highlight the stark realities of working parents, expose the fault lines and inequities, and force a national reckoning.
Since March 2020, an estimated 1.5 million women have left the workforce– numbers not seen since the 1980s and a huge hit for closing the gender pay gap. Some women were kicked out when jobs were cut, others left because of holes in our social safety net– access to paid leave, affordable child care and the stress of managing remote school. We've seen these statistics play out in our own Second Shift membership as women raced to find work in March 2020 only to put aside career ambitions as the pressure of family obligations became too much to balance. Today  1 in 4 women in the US are thinking of downshifting their career trajectories because of burn out.
COVID-19 was like a sucker punch to working mothers. However, as we approach the end of the school year and the economy is poised to roar back to life, there is a light at the end of the tunnel–"mom" is all over the place in the news and cultural conversation and this time we won't be ignored or  diminished! Everyone has had to deal with the reality of what it means to be a working parent; even if you don't have kids you've seen the effect it's had on co-workers and understand the complexities and burdens in a way that you may not have otherwise. Who has not seen a child march into a Zoom meeting and demand snacks or had to meet a deadline on a call from the carpool line?
We are enthusiastic about the way companies have learned (or been forced)  to accommodate and provide services for their employees whether it is hybrid work schedules, access to mental health professionals or reimbursing childcare expenses. In fact 83% of employers now say the shift to remote work has been a success for business, even if they don't intend to keep a fully remote workplace schedule. They all know that talent is going to win and things are not going back to the way they were pre-COVID.  Remember just a short 18 months ago pretending that you had a doctors appointment to attend a parent teacher conference? Employees are now emboldened to ask for what they need and don't feel the need to hide their parenthood for fear that it will detract or undermine their careers. 
The embrace by the Biden administration of care as a fundamental structure for working parents, from early childhood to elder care, is a recognition of the dire need for women to get back into the workforce and the impossibility of getting back what we've lost without a national strategy that includes large-scale funding and assistance. We are proud to work with various organizations who are currently helping to shape policies that will have lasting impact on women today and for future generations to come.  
The Second Shift continues to work hard to keep women in the talent pipeline and to fight for gender equality in leadership and pay. We are grateful for our community and thank you for putting your trust in us over the last year. We look forward to seizing this opportunity for all women! 
Happy Mother's Day!
Jenny and Gina