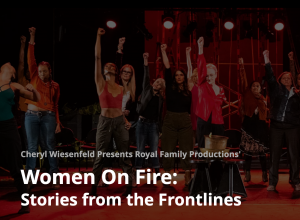 In honor of International Women's Day we hope you will join us for a special performance  of Women on Fire: Storie's from the Frontlines:
This group of true stories was collected by writer and artistic director Chris Henry as she explores the "State of the United States" from different cultural, socio-economic, and diverse perspectives. The all-female cast will be complemented with a modern dance element choreographed by Lorna Ventura with original music by Lars Jacobsen.
The Second Shift team has a block of tickets set aside for our members, friends and allies. Please join us and stay after the show to hear Chris Henry and some of the performers talk about the making of the show.
Women on Fire: Stories from the Frontlines
written by Chris Henry and As Told by a Group of Anonymous Women
choreographed by Lorna Ventura.
The Royal Family Performing Arts Space
145 West 46th Street, 3rd Floor
New York, NY 10036