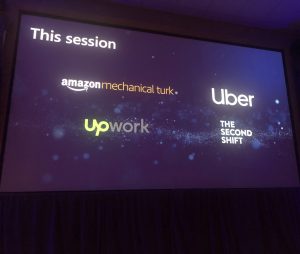 Microsoft was one of the first employee partners we had at The Second Shift, hiring one of our members even before we had the site up and running. And in the years that we have been working together, the "gig economy" team has gone from a few visionaries to an entire cross functional team dedicated to leaning into the freelance economy.
When this team asked our co-founder Gina to speak at their Future to Work conference earlier this month she used it as an opportunity to introduce more than 400 employees and partners to The Second Shift and our incredible members. To balance out a day filled with research presentations and panel discussions on productivity, Gina told the story of Marie Thomasson, who found a way to balance her career and life as a single mom of twins with the remote work she did for Microsoft over almost two years. Using this real life example, the audience was given insight into why our members work this way and how valuable they can be to full-time employees.  
We are thrilled to be a part of the company wide program that will be rolled out at Microsoft and hope to bring you lots and lots of opportunities!