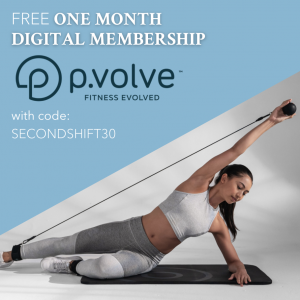 As we continue acclimating to 2021, we want to help you put your best foot forward — in more ways than one. Introducing our first wellness partner of the new year: P.volve!

P.volve's women-focused functional training is the perfect way to get fit by prioritizing your health and building lasting strength. The digital full-body workout program uses resistance-based, high-intensity, low-impact movements to strengthen, sculpt and energize your muscles. You can search for specific workouts by length, body focus and equipment, or start one of P.volve's series programs like "30-Day Evolution." You can also use the P.volve app to set goals, get a custom plan, track progress and access nutrition + recipe guides.

They are offering 1 month unlimited access to their digital library of classes to The Second Shift and 30 days free in their virtual studio for live classes with our special code.

Get your first month free now! To redeem, click here. Select "1-month" and enter code SECONDSHIFT30 at checkout. $19.99/month each month there after. Cancel any time.

Let's get our bodies moving together this month — whenever, wherever — with P.volve.