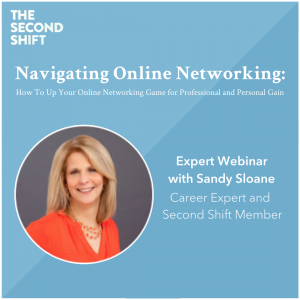 Second Shift member Sandy Sloane taught a member-led webinar on how to network remotely. Sandy is the founder of Solutions by Sloane, where she works with businesses on training and development, team building, events and public relations.  Her session on best practices to use online tools to network effectively was a huge success.
Everyone feels confused in this new world where meeting for coffee or going to a conference is no long the best option to get to know someone or ask a favor. Sandy taught us how to work a zoom to your best advantage, how to use LinkedIn to grow your network without feeling like a nudge, how to create a personal elevator pitch… There was so much actionable, useful, step-by-step information that we can't even break it down to bullet-point highlights.  Here are a few things that  we learned:
How to make new contacts, and the proper way to reach out and connect with them

How to look professional in a remote setting

Online etiquette

Creating a personal elevator pitch

Tips for following up effectively
Watch the entire webinar here and enjoy!!
If you want to share your expertise with our member community reach out to us at members@thesecondshift.com.