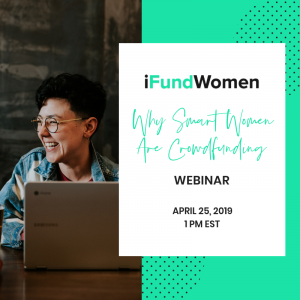 We know that there are many Second Shift members who have start-up businesses they are looking to grow or dream of one day starting their own business but don't know how. If that sounds familiar then mark you calendars:
April 25th at 1pmEST we are hosting a webinar with IFundWomen for Second Shift members interested in entrepreneurship and learning how to grow and fund their own businesses.
iFundWomen is the only crowdfunding ecosystem designed specifically for early-stage, female entrepreneurs, providing a platform for women-led businesses to access capital through rewards-based crowdfunding, expert coaching, professional creative production, a collaborative entrepreneur community, and access to industry connections critical to launching and growing businesses.
Join the iFundWomen Coaching Team on April 25th at 1:00 PM EST for this virtual crowdfunding deep-dive, where you will learn:
1. What exactly rewards-based crowdfunding is
2. If you, and your product or service are right for crowdfunding
3. How to plan a successful campaign through the iFundWomen Method, including pitch honing, network mapping, a rewards strategy & a marketing strategy
Register here and you will receive instruction on how join the zoom chat.
https://zoom.us/m…/register/b1177a8e21fbea9966858a512be5123a
So excited for this collaboration and this opportunity for our members!