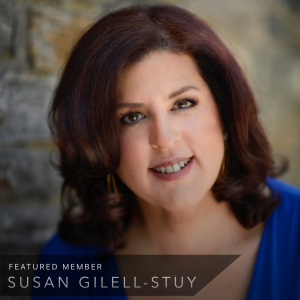 For Susan Gilell-Stuy, success is benevolent; it's rooted in generosity and character, in serving others and serving a purpose that extends well-beyond the reaches of one's own immediate needs. So it's hardly surprising that she would gravitate towards a career in executive coaching; it's a natural fit for someone with her gifts. But what truly sets her apart is her ability to transform executives into leaders, thereby lifting up the aspirations and accomplishments of everyone on their teams. It's an inspirational domino effect and it starts with Gilell-Stuy. 
Tell us your work story : Who are you and what do you do?
I help executives become dynamic leaders by creating and implementing made-to-measure plans based on their individual strengths and identified weaknesses. With over a decade of executive coaching experience working with Fortune 500 leaders across industries, from technology to financial services, biotech to cosmetics, pharmaceuticals to Internet startups, I've developed a process that helps you become the leader your team needs, without sacrificing your personal goals. My approach is built on personal connection and guidance based on real world experience as a high-ranking call center executive and corporate coach. I'm an executive coach for The Wharton School – University of Pennsylvania EMBA and MBA programs; I hold a graduate certificate in Executive and Professional Coaching from the University of Texas Naveen Jindal School of Management, and received a B.A. in Psychology from St. John's University.
What is your proudest professional accomplishment?
Re-creating myself as an executive coach while taking on the day-to-day care of my niece (becoming her second Mom) so that my sister could continue to work full-time following a difficult divorce.
What is the hardest challenge you've faced, work-wise?
Learning how to be myself as a leader and woman in the business world. I learned that success as a women doesn't mean I have to be more like my successful male counterparts. Instead, it's about tapping into my own distinct skills and abilities; my leadership DNA is what brings about success.
If you could change one thing about how your given field operates, particularly with regards to women, what would it be and why?
I wish the business world would better appreciate that becoming an influential leader is a process; it consists of experiences, relationships, and understanding each person's unique skill set. As in life outside of work, you can't be everything to everyone. Instead, businesses need to hone in on a person's individual skills to craft a plan for action that sets women/people up for success and elevates the entire team. Stepping into your role – authentically and naturally – should feel comfortable, not like you're acting it out. Brilliant leadership is rooted in connection. Forgetting that important factor can cause a fragmented team and disappointing results.

What advice do you have for other women looking to make a career change but who are afraid or lack confidence? How is it on the other side? 
Learn your non-negotiables, and then set boundaries that create space between what you're asked to do and what you're willing to do. That way, you can happily say "Yes" to things that enrich your life.
Do you have any advice on how to craft a winning pitch?
It might seem a bit simplistic to say this, but be sure that when you're pitching someone on an idea that you've targeted the presentation to the decision maker with the authority to ultimately make the choice.
Learn as much as you possibly can in advance about the person making the decision: what motivates them to make decisions and draw conclusions? How are they motivated to do something or not do something?
What continues to draw you to your chosen field and what do you hope to accomplish in the years ahead?
It's inspiring to work with people and help them to uncover their inner purpose and become a supporter of their evolution and a contributor to their successes. To continue to do this work and help women close the confidence gap so they feel more confident leading with who they are rather than who others think they should be.

What is the best piece of professional advice you've ever received? 
A mentor shared this quote with me: "You have power over your mind—not outside events. Realize this, and you will find strength." The impact on my thinking was immediate. In one brief moment the power of his words and the resonance they had in my life completely changed my perspective and altered how I would deal with life's challenges, and what it meant to live a success-filled life. What I realized in that moment was the powerful truth that our thoughts, and how we choose to execute them, define the quality of the life we experience.
Who has been your biggest cheerleader / supporter / mentor?

My fellow entrepreneurs and close friends/colleagues: Ronnie Kurchner-Hawkins, Jen Gerves-Keen, Lisa Mallet,Stefanie Freeman, Monisha Kapur.
How do you negotiate the balance between life and work when you're the one setting the boundaries? 
I know my non-negotiables, and then set boundaries that create space between what I'm asked to do and what I'm willing to do. This way, I have the space to happily say "Yes" to things that enrich my life personally and professionally. Past experience can make it easy or difficult to set your own non-negotiable boundaries. Use these guideposts to identify and create the flexible boundaries that will let you say "Yes" to the right things in life.

If you could tell your younger self one thing about what this professional journey would be like, what would you tell her? 
There is a difference between being happy and being fulfilled. Being famous, having money, being liked, and even good health can all make you happy, but happiness is only part of being fulfilled. Being fulfilled comes from a life well lived, one focused on making the world in which you live, and the people you know, better for your having been present. Devoting your life to making a difference, no matter how minor it might seem, helps you become a better person, and fills your heart and mind with a sense of gratitude and your life with an enduring purpose.
How do you make work work for you?
I'm very thoughtful about what I take on and the people who work with and for me. I make sure that I keep my non-negoitables foremost in my mind when choosing what to say yes to.