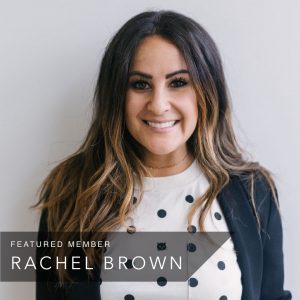 Featured Member Rachel Brown
is a seasoned digital marketing and communications specialist who is also a holistic nutritionist and yoga instructor and in her free time launched a
corporate wellness consultancy
. Nothing says Second Shift member like a turning a personal passion  into a side gig turned entrepreneurial venture. Go get it Rachel!
Tell us your story : Who are you and what do you do?
I'm Rachel. I'm a born and bred New Yorker who loves to travel, connect, soak up culture wherever it lives, and spend time in fresh air. My career story isn't entirely linear. But whose really is? My expertise falls under the umbrella of digital marketing + communications specializing in influencer marketing, content marketing, artist management, corporate communications and public relations. I have 10+ years on the agency side, in addition to regularly volunteering with organizations such as I Give a F*ck, Frontline Foods, etc. where I spearhead strategic VIP/influencer partnerships and grassroots community collaborations. The other hat that I proudly wear is that I'm the co-founder of The Wellness Project NYC, a creative corporate wellness consultancy.
What is your proudest professional accomplishment?
My company: The Wellness Project NYC! When we first launched in 2012, bringing creative holistically focused wellness programming to companies was unheard of. We were early adopters in the space, took on enrollment conversations with confidence, and built a company that allows me to truly connect with thousands of individuals on a daily basis, while getting paid to do so. Along with my co-founder, we self-funded and built a profitable small business that not only changes peoples lives for the better, but we have developed a solid reputation amongst Fortune 500 companies around the world in doing so.
What is the hardest challenge you've faced, work-wise?
My conviction to use our collective creative voice with intention and to be a force for positive change is the driving force behind much of my career path and personal journey. My success in building TWP and running global advertising campaigns stems from my ability to delicately balance client expectations, maintaining alignment on business objectives, and producing meaningful, human-centric experiences for the shared end user.  This conviction is perhaps my greatest asset, but also presets me with my greatest challenges. It means that often times, I'm pressed to look deeper at the "why", not just at the "how", question the status quo and do things differently — and often times without a roadmap.
How do negotiate the balance between life and work when you are the one setting the boundaries?
I know that when I'm depleted, my work will be too. When I'm feeling personally inspired, connected, confident and healthy, that is the energy I bring to "the office". The truth is, we don't have a "work life" and a "home life". We have one life and who you are in one area of your life will most definitely show up in all areas of your life. To me, boundaries are not something to be ashamed of. They help to bring priorities into focus and hone in on the things we truly want to achieve in life, and are an integral part of managing personal and professional expectations. When things slip up and feel chaotic or out of alignment, I think checking boundaries and priorities is a great first place to look.
How do you make work work for you? 
I connect to the good! At this point in my career, I am so grateful to only work with brands and/or people I feel aligned with. This turns work into a tool for me to learn and grow which tends to be both invigorating and rewarding. Each project and client is different and one of my favorite parts of the journey is to determine where I can bring the most value to the work I'm doing and team I'm collaborating with and lean into those strengths for the good of the greater team, and end deliverable.