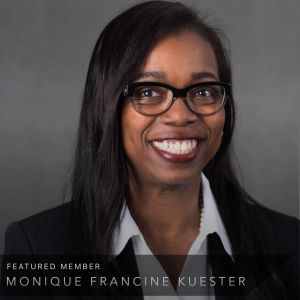 A native midwesterner, Monique Francine Kuester, her husband, and her two teenage children found themselves starting over again on the East Coast. An expert 
in compliance, contracts and regulatory affairs for many large life and health insurance carriers, she was a Senior Compliance Professional for over two decades. This alone would be impressive, but its Monique's openminded, all-embracing aptitude for change, growth, and re-invention that earned her this month's spotlight as our Featured Member. See how she does it, in her own words.
Tell us your work story : Who are you and what do you do?
For 20 years, I performed as a Senior Compliance Professional for several life and health insurance carriers. More recently, I represented the employers in Iowa as a member of the Appeal Board for the Iowa Association for Business and Industry. I worked with state executive administrative and legal staff adjudicating unemployment decisions and also had the opportunity to educate employers about the workings of the board and the responsibilities of the talent acquisition staff to avoid an appearance in the workforce process.
To freshen my resume, I obtained a Master's Degree from Roger Williams University School of Law, successfully graduating with a Master in Studies of Law. I found RWU Law's innovative and versatile Master of Studies in Law program offered a practical and career-focused approach geared toward a mid-career professional. Although my professional background is very strong on its own, I worried that it might seem a little stale. I wanted something new and different to offer employers. Currently, I am excited about the opportunity to cultivate my consulting career, utilizing my combined experience in the insurance industry, benefits, employment and labor, all under the umbrella of compliance—on my own terms.
What is your proudest professional accomplishment?
My proudest professional accomplishment was the moment I was able to walk across the stage to receive my Master's Degree, flanked on my right by my 16-year-old son. I have always been professionally confident—I know what I know—but this was a new and unique challenge that I conquered in half the allotted time.
What is the hardest challenge you've faced, work-wise?
Without a doubt, it is this recent professional situation that I find myself in, searching for the right fit. In my twenties and thirties, with much less education and experience, I took the ease of the job search for granted. My mantra was, "If you build it, he (they) will come." I have worked hard to build a strong foundation, and been willing to expand and grow, but I still find that all of that is not enough on my own.
If you could change one thing about how your given field operates, particularly with regards to women, what would it be and why?
It would be the misguided view people outside the field have that what we do in compliance is just pushing papers. I want people to know that it requires critical thinking, organization, and a passion for detail, to name a few qualities. Internally, I wish that the legal field would embrace the uniqueness of the compliance function and the symbiotic relationship between the two functions, realizing that there is room at the table for everyone.
What advice do you have for other women looking to make a career change but who are afraid or lack confidence? How is it on the other side? 
Advice for my sister-friends in the struggle to make a career change: Take a chance on yourself and surround yourself with good people. Believe that you have EVERYTHING to bring.
What continues to draw you to your chosen field and what do you hope to accomplish in the years ahead?
I am continually drawn to the field of compliance because it touches so many areas every professional encounters.
What is the best piece of professional advice you've ever received? 
There hasn't been just one piece of advice that I have received. My philosophy is made up of the encounters that I have been blessed to have with the many people that have and continue to impact my life; those who count themselves as my "biggest cheerleaders"
Who has been your biggest cheerleader / supporter / mentor?
I have had the good fortune to be influenced by many amazing cheerleaders: my first boss and mentor, R. Lucia Riddle, who introduced me to the wild world of compliance. She is the professional woman I wanted to be when I grew up. The Dean of my law school, who is the most amazing and progressive intellectual person I have ever met. Professor Debra Johnson, who was there in ways that can not be captured in just a paragraph. Mike Ralston, President of ABI, who went to bat for me when I made the leap of faith to blindly change careers and continues to support me today.
How do you negotiate the balance between life and work when you're the one setting the boundaries? 
I am constantly working on the work-life balance. If I come up with the magic mixture, I am going to declare it my own intellectual property, patent it, and sell it on Amazon. In other words, I wish I knew the answer to this question. Right now, work is taking priority and thankfully my family in on board!
If you could tell your younger self one thing about what this professional journey would be like, what would you tell her? 
Don't be so tough on yourself and expect the unexpected because it is going to be exciting.
How do you make work work for you?
I make work work for me by taking advantage of every encounter, good or bad, to enhance my experiences. I use positive and negatives to propel me to the next adventure. What ever the work encounter, I parlay it into an employment or educational opportunity that I can then take to my next encounter. I use each professional chance to make the next one better.