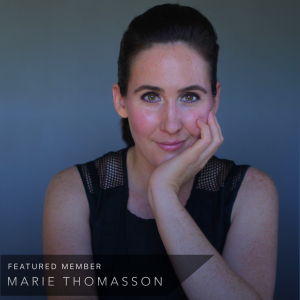 We will never tire of reading our 
Featured
 Member Q+As. Each one is packed full of wisdom and one-of-a-kind insights for navigating a meaningful life, professionally and personally. Marie Thomasson's is no different. A self-described "mom, practitioner of risk, facilitator of dreams and ambitions," Thomasson certainly knows a thing or two about setting your own star and charting your own journey. Here, she shares what she's learned along the way … so far.
Tell us your work story : Who are you and what do you do?
Today, my focus is to bring the world of money, investing, and business into the female dialogue. I am passionate about the idea that, as a gender, we need to grab the reins in our own way, utilizing our strength as women to look at money and our relationship with it in a positive, empowering way. When we stop looking for someone to save us—or realize we are smart enough, capable enough—to do and achieve whatever we desire and dream of, we take action towards more than just our goals.
What is your proudest professional accomplishment?
My proudest professional moment has been the ability to step away from full-time corporate work and create a life that aligns with my values, with so much of that due to the Second Shift. I did what I thought was impossible as a single mother of twins.
What is the hardest challenge you've faced, work-wise?
I've found that it's far easier to work for someone else, on their timelines and deliverables, than self-imposed ones. Even today, it requires a great deal of discipline to ensure that tasks are completed that are "important but not urgent" when the only accountability is to myself.
If you could change one thing about how your given field operates, particularly with regards to women, what would it be and why?
I believe financial services lacks integrity and authenticity, and I feel that more inclusion of women would help change that. As a woman and a mother, it's very difficult to find work in financial that enables you to have a balanced home/work life without feeling guilty.
What advice do you have for other women looking to make a career change but who are afraid or lack confidence? How is it on the other side? 
I don't know that our journey is ever finished. For instance, I kept waiting for my personal situation to change (i.e. be in a romantic partnership) to finally step forward on my goals and ambitions. At a certain point, I decided to stop waiting and take a risk on myself. There is no failure because I never stop moving forward. I believe the simple act of doing will give you the confidence you're seeking, so what are you waiting for?
Do you have any advice on how to craft a winning pitch?
Yes! Don't repeat your resume! We're all human and these pitches aren't getting reviewed by bots, so ditch the key words and focus of delivering your pitch in a warm, engaging tone.
What continues to draw you to your chosen field and what do you hope to accomplish in the years ahead?
The moment I recognized my strength as my interpersonal skills and not my number crunching, everything shifted. I am gratified by each and every client I work with to find the narrative behind their numbers. For me, moving from working with institutions to individual, the people in the pension funds, I've created a career that I see no longer as a paycheck, but as a calling. To me that's the ultimate accomplishment, and I am simply grateful for each day I continue along that path.
What is the best piece of professional advice you've ever received? 
Outsource!
Who has been your biggest cheerleader / supporter / mentor?
My former boss, Louis Lucido, has been an incredible mentor and supporter of mine. And I'd have to follow him up with Loren Pokorny, whom I had the pleasure of working with at Microsoft, through the Second Shift platform. Working with Loren was pivotal as it was the first experience I had where I felt that I could "do" the self-employment thing, in a way that really aligned with my life.
How do you negotiate the balance between life and work when you're the one setting the boundaries? 
Get clear! Only recently I sat down with a group of women in a mastermind and realized that if I'm honest with myself, I can't work a full-time schedule if I want balance of any kind in my life. I was putting so much on my plate that I was not enjoying my time with my kids, and that pretty much defeats the purpose of why I've chosen to chart this path!
If you could tell your younger self one thing about what this professional journey would be like, what would you tell her?
Loyalty, first and foremost, to oneself. 
How do you make work work for you?
I have created a life and lifestyle that allows me to work when I want, with whom I want, and how I want. I can't ask for more.