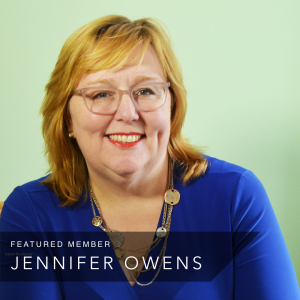 Tell us your story : Who are you Jennifer Owens?
I am an editor, writer and producer focused on women, wellness and work. Currently, I co-host The Breadwinners podcast and produce Turnaround Time for the Turnaround Management Association. I also founded thePause newsletter, focused on women's health. I previously served as SVP of Digital Strategy of HealthyWomen.org and launched Spring.St, the place for smart women. Before that, I served as editorial director of Working Mother Media, and founded the Working Mother Research Institute, home to the Working Mother 100 Best Companies. In 2013, I launched National Flex Day, an annual spotlight on the benefits of flexible and remote work policies for all employees.
What is your proudest professional accomplishment?
Helping to organize the Summit on Working Families with the Obama Administration during my tenure as editorial director of Working Mother Media.
What is the hardest challenge you've faced, work-wise?
I think the hardest challenge is the constant hustle to stay upright and moving forward even as the media industry tries its damndest to bring us down!
If you could change one thing about how your given field operates, particularly with regards to women, what would it be, and why?
I would stamp out the rampant ageism that impacts all forms of publishing, especially when it comes to women.
What advice do you have for other women looking to make a career change but are afraid or lack confidence? 
Come talk to me and then get hustling. I think the key is to think "side hustle" at first and to take any opportunity that comes your way to explore a career change, whether it's through volunteering or consulting. (Keep your day job to pay the bills!)
Do you have any advice on how to craft a winning pitch?
Put yourself in your listener's shoes. What do they need to know about you and what you do in order to solve their needs?
How do negotiate the balance between life and work when you are the one setting the boundaries?
Right now I'm a big fan of timeboxing to help prioritize and organize how I'm using my time and for what. 
How do you make work work for you? 
I make work work by focusing on the people, topics and formats I'm most interested in. I am most jazzed when someone takes an idea of mine and makes it better — and visa versa. Collaborating in truly supportive fashions to encourage our best selves at home and work is how I like to roll — and it's the role I like best to play.
Do you want to be our Featured Member? Fill out this survey!!