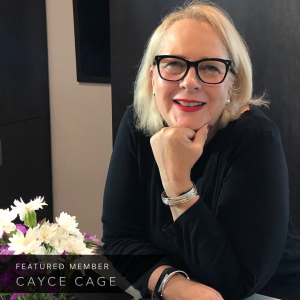 Cayce Cage has built a career around seeing, cultivating, and celebrating other people's talent, which is why it's especially nice to be able to celebrate her unique talents as this month's Featured Member. We love her commitment to others as much as we love her commitment to herself. She is a beacon of respect, support, and enthusiasm in the workplace, which are qualities we value and that lift up everything and everyone.
Tell us your work story : Who are you and what do you do?
I am a consultant who specializes in brand building through staffing placement, content creation, training and sales strategies.
What is your proudest professional accomplishment?
A 30 year corporate career helping lead and develop people to their potential that became a spring board for me to start my own business.
What is the hardest challenge you've faced, work-wise?
My hardest challenge was starting a new job, only to find the culture was not the right fit for me.
What advice do you have for other women looking to make a career change but who are afraid or lack confidence? How is it on the other side? 
First, you have to decide what really matters most to you and make that a priority. Once you let go of what you are 'supposed' to do or be, it's very liberating. Then decide what you love doing for work, your passion. Then decide how little money you can live on while you make the transition and find a way to ensure that you have that money for one year while you build your own business. Then hustle, hustle, hustle!
Happiness is not connected to financial income.
Do you have any advice on how to craft a winning pitch?
Be yourself and speak your truth. Don't write what you think they want to hear. Promote your skills and offerings. Have confidence in yourself. You can do this!
What continues to draw you to your chosen field and what do you hope to accomplish in the years ahead?
Staffing is where my passion is really based. Helping people find people and helping people grow. I hope to continue to work as a consultant part to full time on a regular basis forever. Maybe write a book…
What is the best piece of professional advice you've ever received? 
Trust your instincts
How do you negotiate the balance between life and work when you're the one setting the boundaries? 
I make the decisions of balance based on my projects and not taking on too much work that would create an imbalance. Learn when to say 'no'.
If you could tell your younger self one thing about what this professional journey would be like, what would you tell her?
It just keeps getting better!
How do you make work work for you?
I have created a business that I can do remotely from anywhere. That's most important to me.