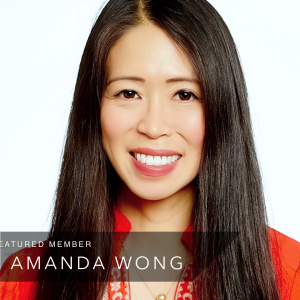 Meet Featured Member Amanda Wong! 
Amanda, tell us about yourself:
I'm a senior advertising and marketing executive who leads strategy, develops content, and drives sales for premium brands.  Most recently I was at WarnerMedia creating award-winning campaigns for advertising clients across all categories, including Amazon, Warner Brothers, PepsiCo, MillerCoors, Geico and P&G.  With 360 expertise across all platforms – TV, digital, social, mobile, experiential, and promotions – I help brands connect with fans, while also driving buzz and revenue for clients. With seasoned experience in managing stakeholder relationships and multi-platform execution on the agency, brand, and client sides, I like to wear all the hats, and get it done from pitch to post.
What is your proudest professional accomplishment?
I have two: 
1) I created a cross-platform promotional campaign for the release of WONDER WOMAN! I was ecstatic to promote a movie with such a positive message about what it is to be a strong, powerful, brave woman. 
2) I saw the need for diversity and inclusion at my company, so I launched a leadership development program called R.I.S.E – Recognize, Invest In, Strengthen and Empower. It was an initiative that provided new employees with access to senior management and mentorship, and it has since been implemented company-wide as an annual event.
What is the hardest challenge you've faced, work-wise? 
Due to a merger, there were massive layoffs at my company, and my entire team was eliminated except for me.  I managed to do the job of 6 other people because we still had to meet our client's expectations.  It was challenging mentally and physically, but the show had to go on.  In the end, our clients were thrilled, so it was worth the sleepless nights.  Being on lean teams has taught me to be scrappy, resourceful, focused, and persistent.
What advice do you have for other women looking to make a career change but are afraid or lack confidence? How is it on the other side?
I would say do the research – network and set up informational interviews to understand the ins and outs of working in a different industry or changing careers.  If you're passionate, determined, and you've done the work, you can make it across any finish line!
Do you have any advice on how to craft a winning pitch?
Use active listening and empathy to truly understand the problem in order to generate a winning solution.  Identify the unique selling proposition, whether you're pitching an innovative ad campaign or attempting to land a job – what is it about you/your idea that is different from the rest? Also, stand in front of the mirror and practice your pitch!
What continues to draw you to your chosen field and what do you hope to accomplish in the years ahead?
I am passionate about creative that evokes emotion or inspires action.  Marketing is not rocket science, but it can speak to the head and heart.  And being in the world of entertainment media, I've seen how enthusiastic fans can be.  I myself am a huge Game of Thrones fan, which led me to travel all over the world to every single filming location! In the years ahead, I want to be a part of a brand that has cultural and social impact. I want to contribute my creativity, passion, and drive for results to a seasoned team of advocates and collaborators.
What is the best piece of professional advice you've ever received?
"Choose your boss, not your job." This is easier said than done, but if you can find a trusted leader who supports, encourages, empowers, and advocates for you, the job will be easy.  Seek out mentors and allies who are good human beings, and build a network that lifts you up so you can pay it forward.
How do negotiate the balance between life and work when you are the one setting the boundaries?
I always find time to exercise.  I set a time every day to turn off the computer and MOVE! Movement can be a run in Central Park or a calming yoga class, but it's non-negotiable.  Taking care of physical and mental health leads to a successful work / life balance.
If you could tell your younger self one thing about what this professional journey would be like, what would you tell her?
I would tell her: 
1) if a situation, job, or relationship isn't working for you after you've tried to make it work, then gracefully exit. 
2) whenever a door closes, a window opens!
3) girl, invest more in your 401K!
How do you make work work for you? 
I look for inspiration everywhere, practice gratitude often, and find something to be passionate about every day.  Even in the chaos of this unprecedented year, there is goodness in the world!
We want you to be a Featured Member of The Second Shift! Fill this out and tell us all about yourself.