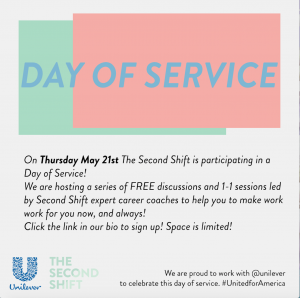 On Thursday, May 21st The Second Shift is participating in a Day of Service with Unilever as part of their United for America initiative. We are hosting a series of FREE discussions and 1-1 sessions led by Second Shift expert career coaches to help you to make work work for you now, and always!
We are offering 2 larger format discussions and limited 1-1 sessions. Links to sign up for each session are below.
It's free but there are space restrictions so sign up ASAP!
12:30- 1:30 EST Ghita Filali will host a session on navigating your career during uncertainty.  In this workshop you'll learn to:

Clearly identify and articulate to yourself the things you believe to be committed to
Set an intention for this period of time
What to do to adjust / modify / pivot?
Create a short list of actions (specific and tangible) to move your goals forward
Sign up HERE!

3:30-4:30 EST Courtney Seard will lead The Mindset of Resilience. It's what's required in these times, it's more than just positive thinking it's a trait, a state, and a skill.

What is resilience? How do you create it?
Review the basics of the topic, how the mind works, provide tips, and lead  breathing and mini meditation exercise.
Sign up HERE!
Karen Finckenor
and
Amina AlTai
have generously offered  a limited number of 1-1 sessions for members who want help with specific issues or need personalized guidance. To sign up for these email us at (
members@thesecondshift.com
with subject
Day of Service
) and we will directly contact those who we are able to accommodate.
This is the first of what we hope will be an ongoing series of member led discussions. If there is something you would like to share with the larger community please let us know at members@thesecondshift.com